Courses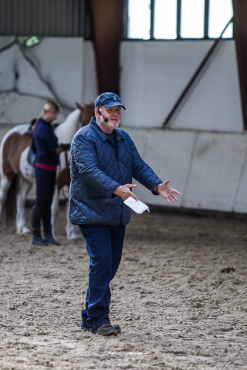 A variety of courses are available. The courses cover all aspects of horsemanship, at all levels, from basic to advanced. Do not miss the opportunity to be inspired by Eyjólfur's great store of knowledge. The training of the tölt and the gaits of the Icelandic horse is at the centre of all courses Eyjólfur teaches.
Eyjólfur's teaching style is very clear and straight-forward, giving students a methodical and systematic approach which is easy for both horse and rider to understand and apply. His gentle methods have been proven effective by successfully working with hundreds of horses and humans. You will learn problem solving principles and teaching techniques that work with the horse's nature and instincts in order to overcome resistances with confidence, patience and understanding.
Eyjólfur will teach you the skills that will enable you to help your horse become soft – light – and well balanced in the gaits. Each rider will receive a plan of action for continuing work, with the techniques learned for when they get home. All courses contain Eyjólfur's popular theory lessons. The most success will be achieved by booking a series of courses. That way the riders can work on themselves, and their horses, in between courses and thereby become ready to advance to the next level. The courses can be taught in English, Danish, Swedish or Icelandic.

Private lessons
This is the most popular form of courses. These courses are normally 2 – 3 days or more. Each horse and rider receives individual attention each day. Eyjólfur always watches the horse and talks to the rider. He then determines how best to proceed based on the information he gathers from watching the horse and hearing the rider. These courses are open to all riders from beginners through to advanced. Riders need to ride for a minimum of two days. Maximum 8 riders. In the end of the course each rider will be coached of Eyjolfur to plan the future training. Riders in courses with privat lesson can arrange to be filmed for privat learning use only.
Group lessons
This is Eyjólfur's traditional 2, 3, or 4 day courses format. This is a good way to learn basic horsemanship and riding, step by step. A series of courses will achieve the best results. Riders are divided into 3 groups, each group containing 4 people. Maximum 12 riders.

Semi-private lessons
This format is for 12riders,
and two are taught at the same time. This format is suitable for riders that are at a similar level of riding skill. In the end of the course each rider will be coached of Eyjolfur to plan the future training.
Auditing courses
Attending a Eyjólfur course is more than just auditing. It is an effective, very affordable way to learn and develop your horsemanship skills. You will observe and learn without a horse.
You'll have the distinct advantage of being able to focus on what the others in the class are doing, and you'll have time to make notes and discussing with others.
In observing how the students with horses are progressing, you will have a much broader look at the processes involved. There will be lots of different behaviors being exhibited and you get to watch how each is coached or handled by a Master Trainer.
Facilities
For all courses an indoor arena is required. A good outdoor arena is acceptable in the summer when good weather can reasonably be expected. For academic lessons a whiteboard, a TV, and a DVD player are necessary.
Please note: All riding and work with horses during these courses are at the participants own risk. Videoing and audio taping is not allowed during any of the courses or clinics. Same rules apply for transcribing. Exception: Riders in courses with private lesson are allowed to be filmed for private use only.

Balance seat courses
The rider can develop a refined sense of balance. By allowing the body to be free of any contractions and letting the joints move into their optimum freedom, a rider can easily follow the movements of the horse.

The reason to discover a quiet seat is so that we can listen. We must first find a place of quiet listening in order to act. Without listening, all of our actions are really reactions.

The task of the rider is to become aware of how his or her own actions cause reactions in the horse. The rider needs to discover a neutral place where she or he is not interfering with or disrupting the horse's balance.

Increasingly riders are beginning to realize that a heightened awareness of their own bodies has a dramatic effect on their horses.

The balance seat courses are designed to help riders become aware of their negative habits in reacting and tightening, which interferes with the freedom of movement through the head, neck and back of both horse and rider.

The first course takes place without horses and combines both theory and exercises. The courses can be taught in English or Danish.