Clinics, seminars and lectures

Clinics
Eyjolfur is an expert in holding clinics for large numbers of spectators. At these events the education of both horse and rider is explained and demonstrated. At Eyjolfur's clinics you will see top trained horses. Please contact us for more information.
Seminar
At these events we are going deep in special subjects and there will be both theory and practical demonstation. The spectators can ask questions and have a dialog with Eyjolfur/other trainers.
Mini seminar
Eyjolfur will come with his horses and demonstrate and explane the education of the horse. The spectators can ask questions and go home with good ideas for the future training of their own horses. Mini seminar fits well for Horse Clubs.
Equine Lecture
Eyjólfur's Educational Lectures designed to help beginners to advanced riders understand the delicate partnership and communication between horse and rider.
The PowerPoint lectures are filled with pictures to help riders understand the behavior of the horse, the education of the horse and how a horse moves in different gaits.
Please note:
Videoing, pictures and audio taping is not allowed during any of the clinics, seminars or lectures.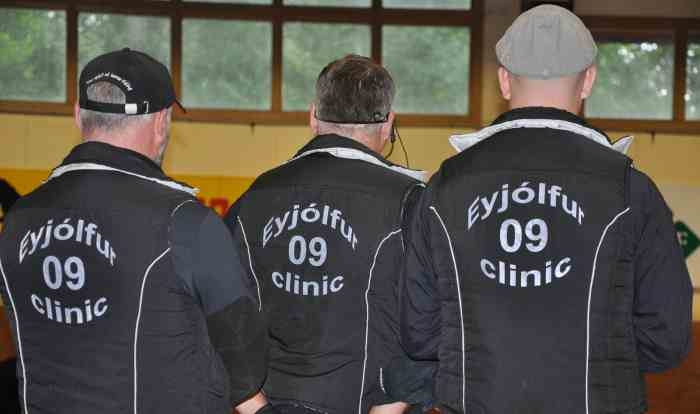 Above: Three world champions at one of Eyjolfur's clinics.