Master Trainer Eyjólfur Ísólfsson

Eyjólfur has been involved with horses from an early age. From the age of 5 until he was 18 years old, he spent every summer in the Icelandic countryside with his uncle, a very competent horseman. During that time Eyjólfur learned traditional Icelandic horsemanship and riding style.
At the age of 18 Eyjólfur won the "Silver Shoe", a prestigious prize awarded to the best trainer in the graduating class at Holar agricultural school. The "Silver Shoe" is sponsored by Iceland's leading newspaper. Since then horses have been his livelihood.
In 1985, Eyjólfur became a certified "Master Trainer", the most advanced qualification obtainable from The Association of Icelandic Horse Trainers, FT. Only six people have achieved the honor of being Icelandic Master Trainers.
Eyjólfur was The Chief Riding Teacher and Lektor at Hólar University, Iceland for 15 years. Hólar University is the official Icelandic centre for riding and training the Icelandic horse. Through his work at Hólar Eyjólfur has substantially influenced developments in all aspects of Icelandic horsemanship.
Today Eyjólfur teaches courses and offers clinics around Europe. More about courses and clinics:
Click here
.
Eyjólfur has produced popular teaching materials, such as 3 DVDs, On Horseback 1,2,3, a book about training the Icelandic Horse, and numerous articles. More about the films:
Click here
.
Eyjólfur has been active in formatting new competitions, for example the "Pace Test", which he created along with late Friðþjófur Þorkelsson. The "Pace Test" is one of the most popular sporting events for the Icelandic horse in the world today.

Eyjólfur has successfully competed in national and international competitions. Among his achievements are five times Icelandic Champion, two times winner of The Landsmót Tölt, winner of The Landsmót Gæðingakeppni, Rider of the Year and more.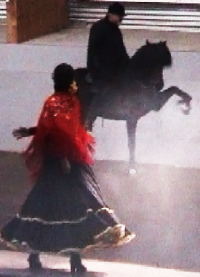 One of his most remarkable achievements was the World Record in the Tölt Competition, set in 1978 on Hlynur from Bringa. That record was unbeaten until WC in Berlin 2013.

Eyjólfur is a honorary member of The Icelandic Trainers Association FT and he has also been honored for his contribution to Icelandic Horsemanship by The Icelandic Equestrian Association, LH.

Eyjólfur's career mission is to acquire new knowledge and find better methods for education and riding the Icelandic horse. Every year he travels in Europe and the US to keep up to date with the latest developments and examine the work of other trainers and instructors. The horsemen who have impressed Eyjólfur the most are Ray Hunt, Walter Zettl, Buck Brannaman and Anja Beran.

Eyjólfur has had a lifetime of education with the greatest, most important teacher of all, the horse.

Eyjólfur successfully combine old and new ideas, and methods developed for other breeds with the ancient Icelandic traditions.

Eyjólfur is one of Iceland's most respected horsemen and clinicians, and a fountain of knowledge. He is a true scholar with a great ability to communicate and transfer his knowledge to others. As a riding teacher he is the pioneer that others follow.

Eyjólfur is married to Ida Thellufsen.